The 16 Best Royalty-Free Music Sites in 2023
---
For an advertising video to be fully effective, it is important that it is seasoned with good music. But good music really isn't something you can grab anywhere on the internet all you want. Most musical works that can accompany a video are subject to very strict copyrights and are therefore priced by their owners.
Fortunately, there are exceptions. These are often listed on websites that are real sources of royalty-free music. You can therefore use it for free without any risk of legal action.
Where can I find royalty-free music? We present to you in this article the best among these sites where you can draw good music to perfect your videos.

1- Free Sound Track Music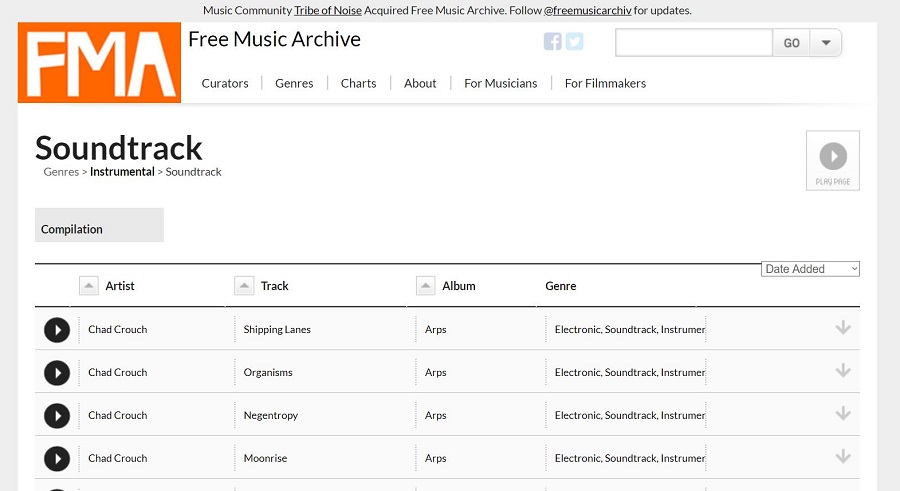 Whether you are looking for background sound to liven up the empty moments in your documentary or artist's music, Free Sound Track Music can serve you. It is much more in demand by YouTube video creators and suits the needs of these users well. The site offers a variety of very attractive musical genres made by professionals. Take a tour of Free Sound Track Music to discover the best of music in complete freedom.
2- Freeplay Music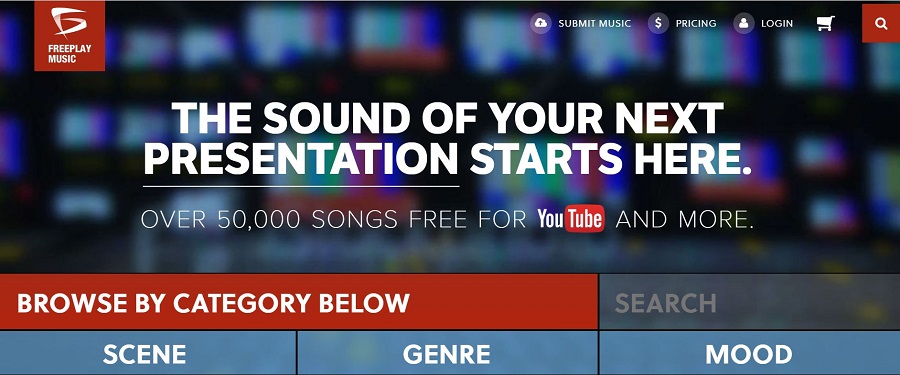 Freeplay Music is one of the largest directories of musical titles available for free on the internet. More than 15,000 very practical titles are there in a very organized way. It is also this organization that allows users to quickly find themselves by doing a search according to the type of music desired. Freeplay Music offers users a subscription option that extends their downloading possibility. With this site, it is certain that you will find what you need to perfect your video editing.
3- Autio Micro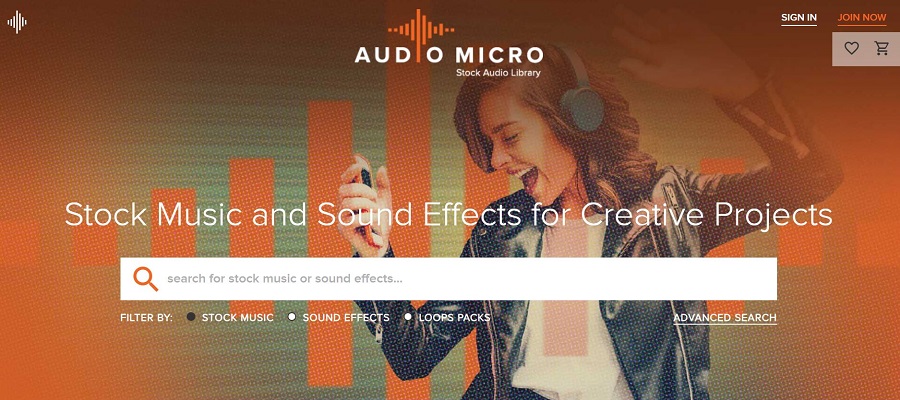 Autio Micro vous propose le meilleur du genre musical pour tout type de vidéo. Vos projets de créations de vidéo prennent vie avec les musiques présentées par ce site. Elles sont toutes libres de droit et peuvent servir à des fins commerciales sans aucune restriction d'usage. Tous les rythmes musicaux y sont. Autio Micro est sans aucun doute le site qu'il vous faut pour augmenter la valeur de vos vidéos.
4- PacDV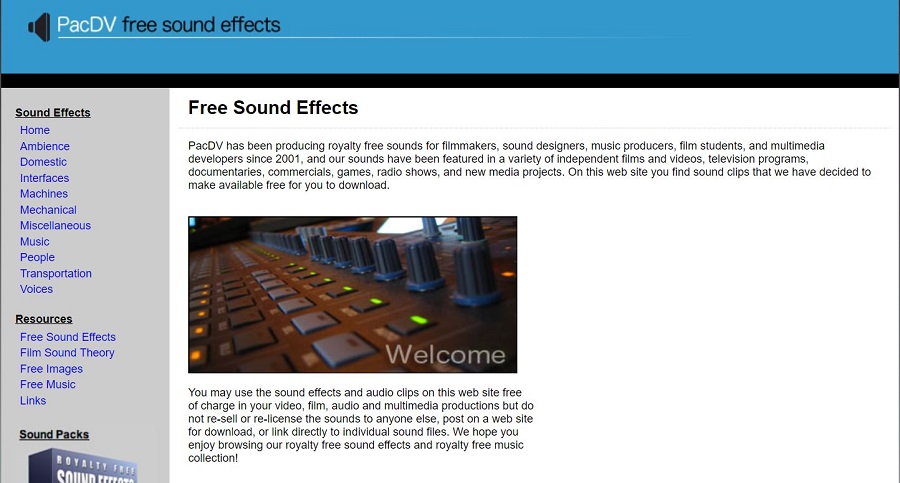 Put a good mood in your videos with PacDV. Whether you are producing a short film or a feature film, you have everything you need with PacDV. The site offers very good royalty-free musical works to video producers without requiring any payment. Your documentaries will be more interesting with these works. Consult the library of this platform to discover an unsuspected musical wealth.
5- Bensound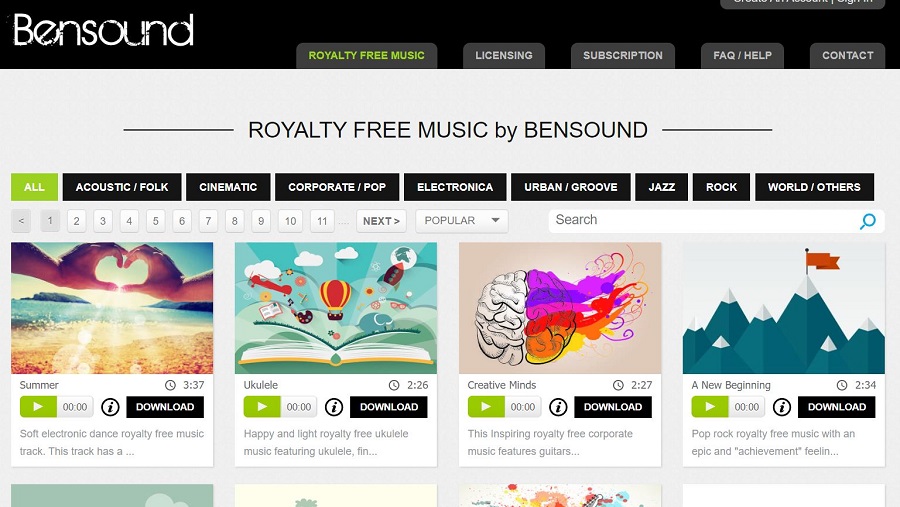 Bensound presents some very impressive musical titles in an organized way. These are of course accessible free of charge and free of rights. You can therefore safely use this site to draw all types of music compatible with your video creation projects. The different titles are classified by category and genre to make it easier for users. Like some of its peers, Bensound also offers a monthly subscription for wider access to its full range of music.
6- Dig CC Mixter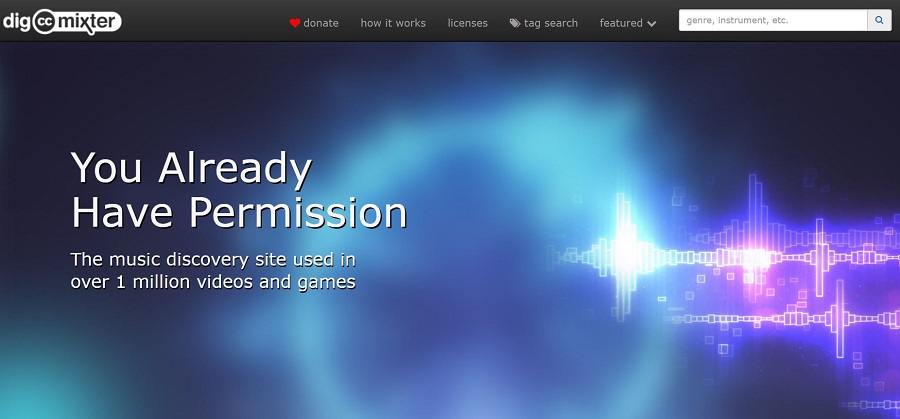 On Dig CC Mixter, you may be faced with an embarrassment of choices. The site is so rich in musical genres that it takes you a little time to make a choice. It offers the best music for unique video creation. Most of his music is royalty-free and can be downloaded for free. For your project, you can rely on Dig CC Mixter.
7- Musicscreen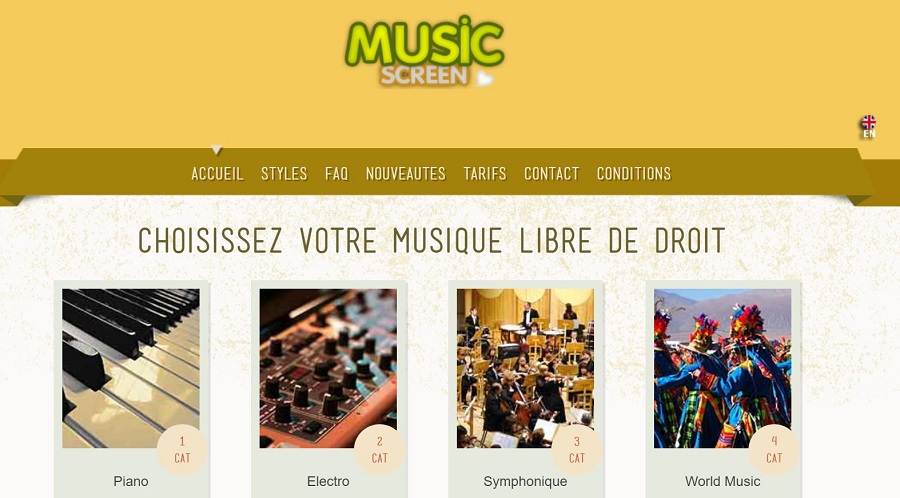 Guitar, jazz, piano, and many other musical instruments are used to provide particular musical genres on Musicscreen. They are all royalty-free and free to download. Navigation on the platform is simple with quick access to the securities directory. Make your choice with ease and take advantage of the services of an exceptional site for exceptional video productions.
8- Incompetech free royalty-free music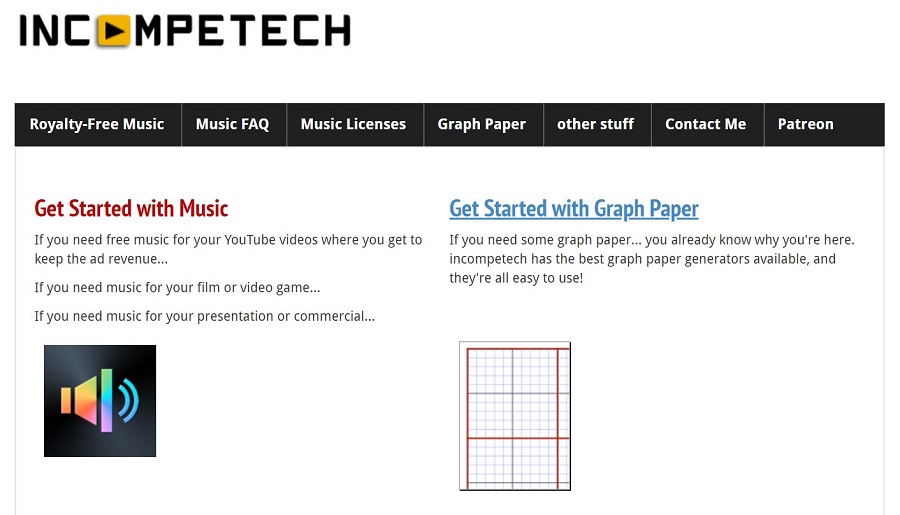 A special site for free access to royalty-free musical titles. It is initiated by Kevin McLeod, an outstanding composer who himself has offered his own works on the platform. Incompetech lets you top off your videos with beautiful melodies without paying a penny. But it demands that you show gratitude by quoting its author in your productions. A requirement that can be met with the greatest pleasure when listening to the sublime melodies available on the site.
---
---
9- Filmstro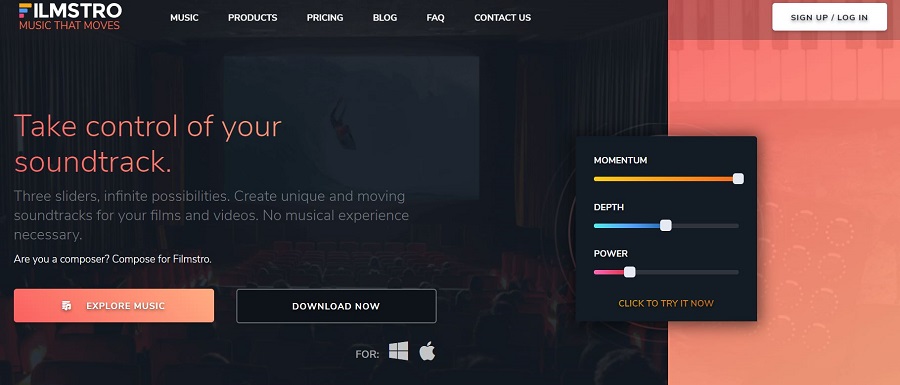 You will undoubtedly love Filmstro from your first experience with the site. Not only do you have a very rich repertoire of music for your creative projects, but also the site allows you to create your own. A feature that gives you the opportunity to let your imagination run wild. With Filmstro, combine your videos with the music of your thoughts.
10- Au Bout Du Fil royalty-free music site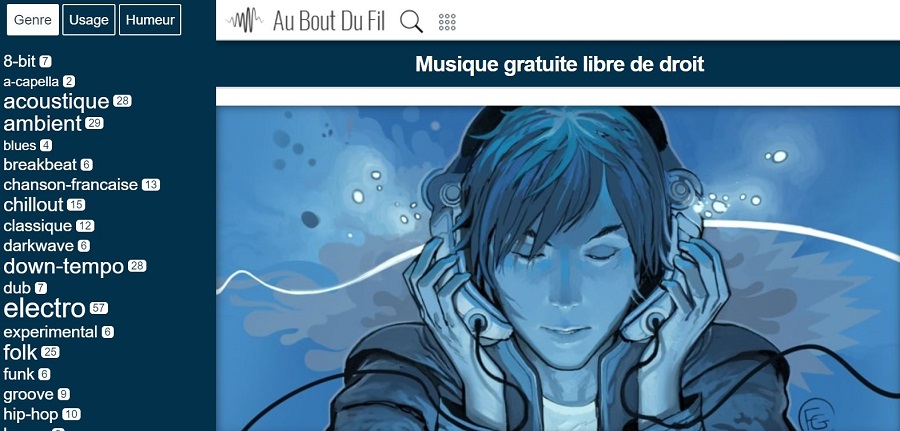 Want to save time? Then use Au Bout Du Fil. The best royalty-free music site that categorizes tracks by mood. Very effective in finding the perfect music for a quick video creation project. You will also find the license of each title there.
11- YouTube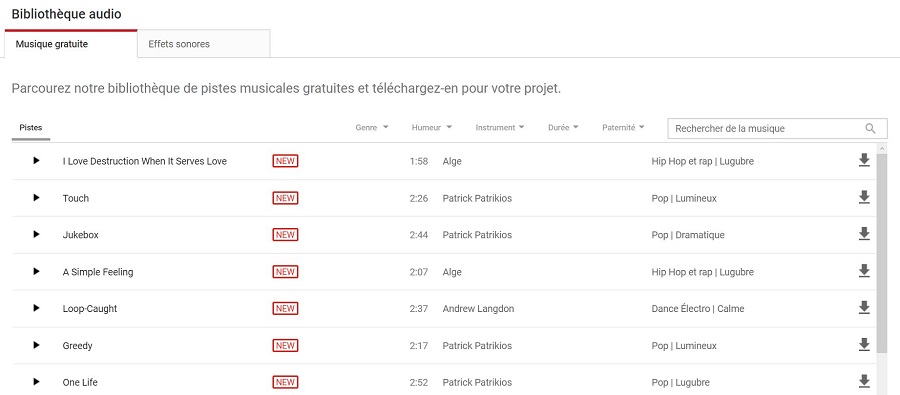 Many still don't know it, but YouTube has a very rich library of sounds and music of all genres. Most of these are royalty-free works that you can use to make your videos. The site offers simple features to make finding music easier. You will certainly find what suits you best here. However, the platform does not provide access to downloads unless you use third-party programs.
12- Soundcloud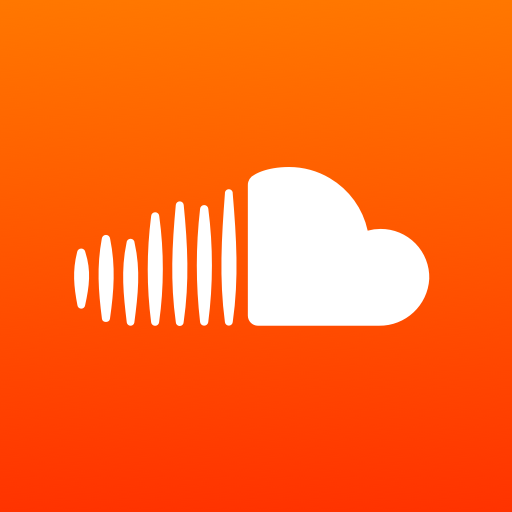 Soundcloud is one of the best platforms for sharing and listening to music for free. It also hosts many copyright-free audio files. It is a site that allows independent artists who are not on the biggest platforms like Spotify, iTunes, or Deezer to make their works available to the public. With Soundcloud, it should be noted that only listening to songs is authorized. The downloading and use of the works for commercial purposes are prohibited. On this platform, you will have access to a wide variety of music.
13- PartnersInRhyme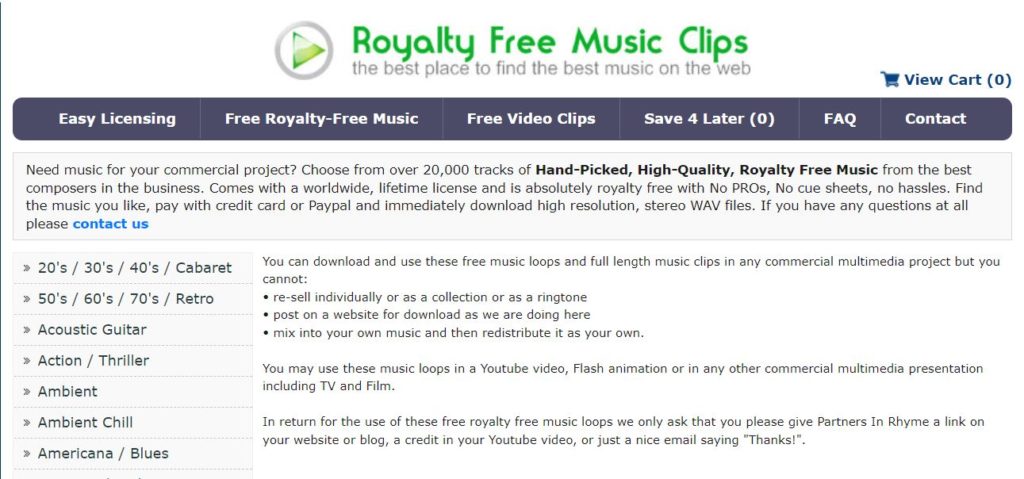 PartnersInRhyme is a great site where you can find the best selections of royalty-free melodies and sounds. This platform embeds songs of all genres. Unlike Soundcloud, you can use the music from this platform as you see fit. However, you must credit the site in your video editing, place a link from the platform directly on your blog or site, or simply by sending a thank you email to the platform team.
14- Freesound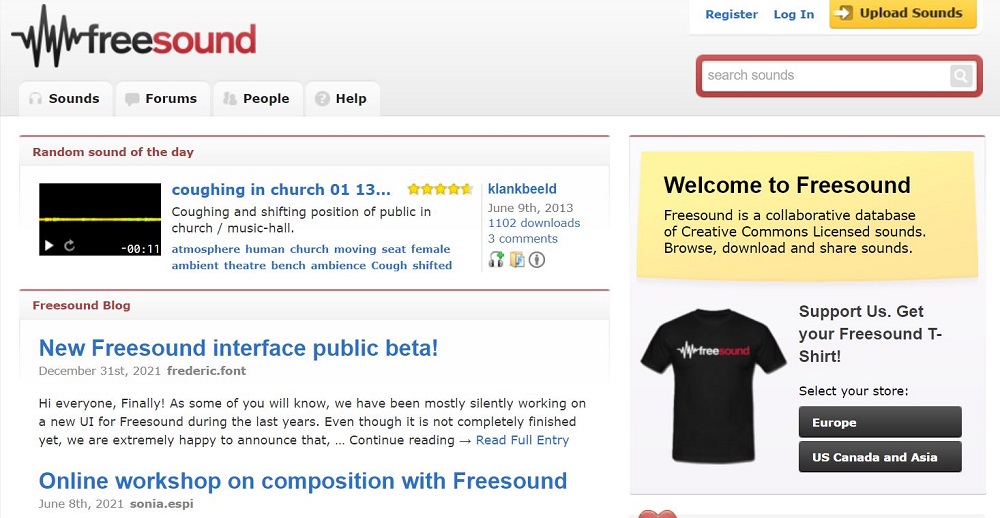 Freesound is a platform that gives you access to a wide choice of songs subject to the Creative Common Zero (CC0) license. With such a license, you are free to use the music according to your needs. Thus, you can easily modify the original song or use it entirely for purely commercial purposes. However, you must ensure that you use the author's work within the limits of French law.
To this end, you are asked to credit the author in your editing. It is a platform that allows you to access more than 4,000 hours of audio files or more than 147,000 different sounds. You are sure to find your rare pearl. If not, you still have the option to make changes to the songs. Indeed, the platform also contains sound effects and ambient sounds to allow you to perfect the soundtrack of your video editing.
15- Publicdomain4u

Publicdomain4u as you can imagine is a platform that offers several hundred songs from the public domain. You will find a wide variety of music of all genres. Being public domain music, you are free to use it without any restrictions. It embeds music that is several years old. So if you're in need of a royalty-free track for your next video edit, you've got what you need. Downloading, listening and editing is fully possible.
16- FreePD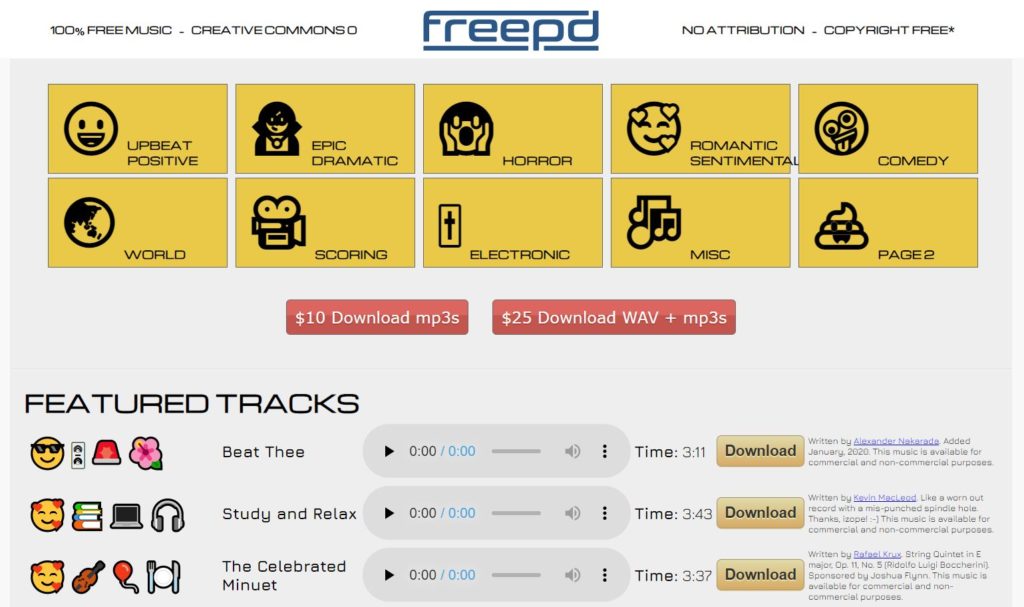 Like Publicdomaine4u, FreePD is an excellent platform that offers music from the public domain. These are mostly retro music to which you have free access. You have unlimited access to the platform. You can use the pieces as you see fit.
You will not need to credit the author of the work before using it. Like most of the platforms on this list, you will be treated to the music of all styles and genres even if the tracks might sound old. Feel free to modify it and add your personal touch before editing.
You have at your disposal a variety of sites where you can easily find good music without paying a penny and without any restrictions. An advantage for you if you are passionate about video creation. Choose the site that tempts you the most and express your feelings by associating each video with the appropriate musical genre.