---
In the past, it was very difficult to approach a family library without finding a collection of the Encyclopedia Universalis there. With the advent of the internet, that whole period is over. The encyclopedia therefore no longer has its status as the only source of knowledge and knowledge. The internet has therefore become a great space of knowledge, especially with search engines.
However, these are sometimes limited when it comes to finding all the important information about a specific subject on a single page. And this is where we notice the importance of online encyclopedias. Here are for you the best encyclopedias that you can consult for free online.
1- Wikipédia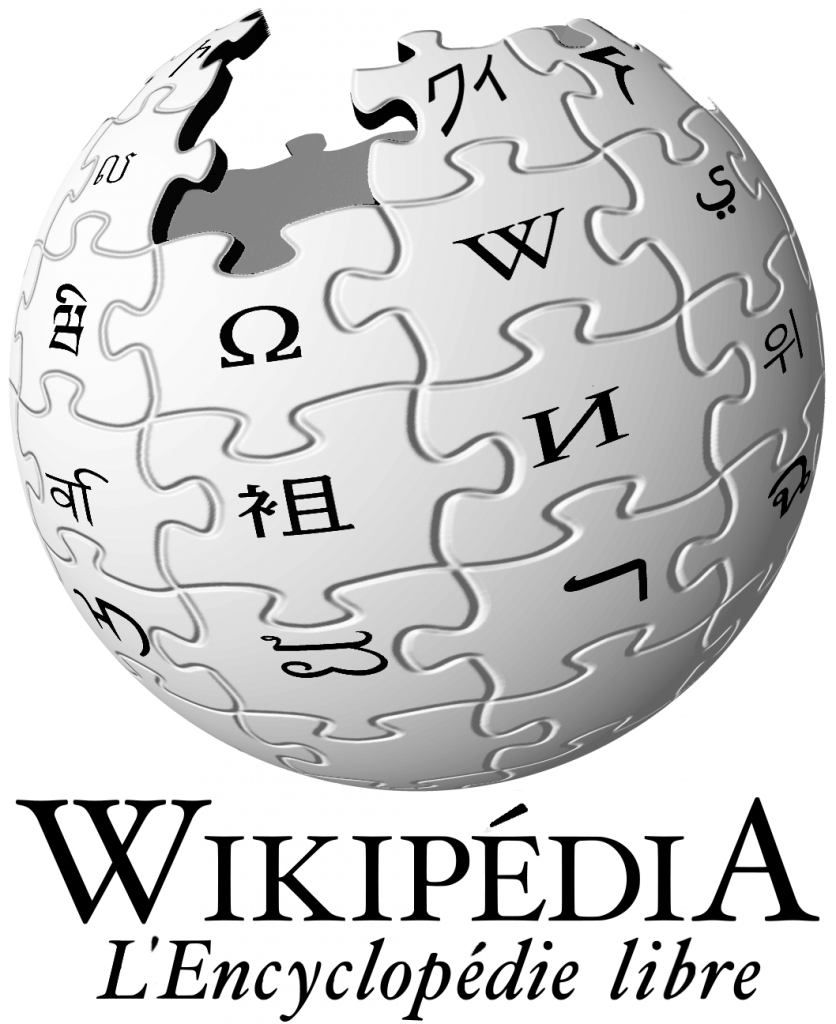 Who has never heard of Wikipedia? Know that this is the largest and most reliable online encyclopedia. It holds this status thanks to its more than 38 million articles published and available in more than 300 languages. This means that Wikipedia is the most consulted encyclopedia in the world, with more than 447 million visitors per month. It also occupies a place of choice in the referencing of all search engines such as Google, Bing and others.
Wikipedia is an excellent means of accessing information provided that it is used with a critical mind and caution. It can be consulted at any time without any announcement since it is financed by donations. This encyclopedia continues to be talked about despite the many attacks it continues to suffer even from Google. Indeed, Google wanted to rub shoulders with the hegemony of this encyclopedia by launching the Knol in 2007. This was a big setback on the part of Google since the Knol only followed 5 years.
2- Wikimini

This encyclopedia was launched by a group of Swiss and Belgian teachers in 2008. As you can see from its name, the Wikimini is a version of Wikipedia dedicated exclusively to children under 13 years old. Like Wikipedia, the Wikimini is free and also allows young people to supplement the content posted online with other information.
The Wikimini is intended to be an educational tool that offers young children the possibility of becoming actors in an encyclopedic project. It is a field that allows juniors to develop their ability to research, synthesize information and improve their writing skills. Since 2008, there have been more than 15,000 articles published on this site. The main goal of this project is to allow children to become writers on a subject that fascinates them.
3- Larousse
We cannot speak of an encyclopedia without mentioning the Larousse. Indeed, as an encyclopedia available online was born in 2008 after the abandonment of its paper version in 2000. Today, there are more than 170,000 articles written and published by leading experts in different categories to namely: Sciences and Medicines, Letters and Arts, History and Politics, Nature and Ecology, Geography and Philosophy.
The user interface of Larousse is significantly better than that of Wikipedia. This encyclopedia offers links to online Larousse dictionaries. However, unlike Wikipedia, Larousse articles do not include any links to other sources of information in order to facilitate understanding of the subject matter.
---
---
4- Vikidia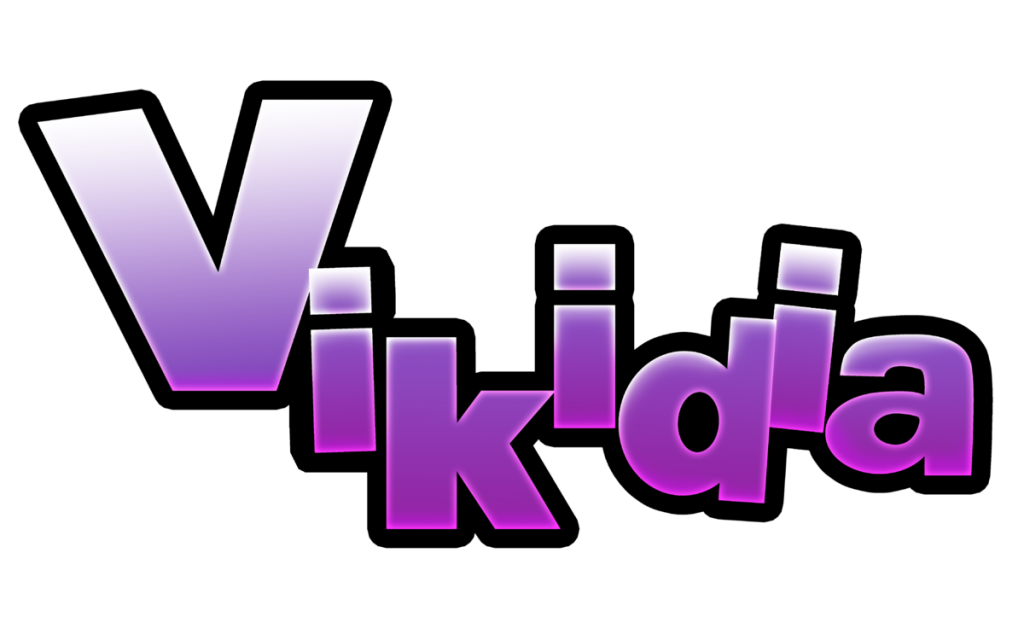 Vikidia is a French encyclopedia dedicated to young readers aged 8 to 13. It is very similar to Wikimini since it is based on Wiki and reader participation. The initial project in 2008 was to make an extraction from Wikipedia but with content geared towards juniors. This idea was quickly abandoned and gave birth to a new encyclopedia different from that of Wikipedia.
Unlike Wikimini, al Vikidia is an encyclopedia whose writing articles is open to both juniors and adults. We can therefore deduce that the content available on Vikidia will be much more complete than that of Wikimini.
5- Agora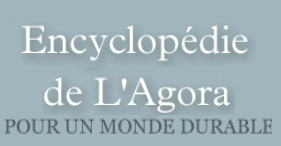 Agora is a Quebec encyclopedia founded in 1998. It is one of the first web encyclopedias. Being a participatory encyclopedia, it offers thematic documents, news articles and notices. It must be said that to be a contributor to this encyclopedia, you must be approved by the Agora team. So it's not open to anyone who wants to do it. The contributor becomes autonomous once he has acquired the approval of the Agora team. However, publications must follow the humanist guideline of the foundation.
6- Imago Mundi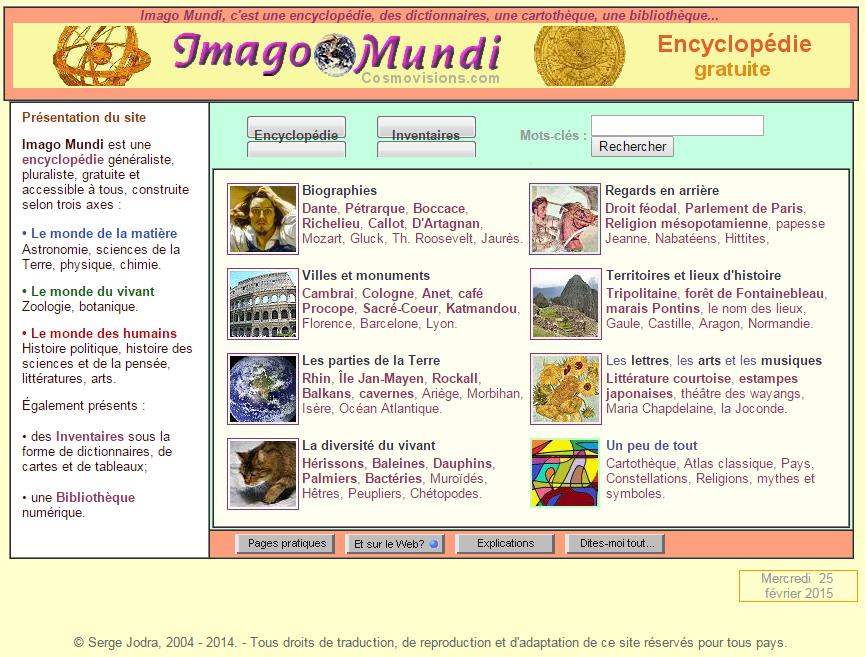 IMAGO MUNDI is a free, generalist and pluralist encyclopedia. This is a purely personal encyclopedia unlike the previous ones on this list. It was created by the scientific journalist Serge JODRA. All articles posted on the site were written by the latter. This encyclopedia is created around 3 main themes, namely:
the world of matter in which we find the sciences of the Earth, Astronomy, physics and chemistry;
the human world composed of: history of science and thought, political history, arts and literature;
the world of the living which approaches botany and zoology;
a digital library;
an "inventories" section, presented in the form of tables, maps and dictionaries.
You will be entitled to more than 30,000 articles on this personal encyclopedia.
7- Wiktionary

Wiktionary.org is an online encyclopedia dedicated to linguistics and world languages. Launched in 2002, it represents a collaborative project that aims to gather exhaustive information on words, their meanings, their etymologies, their pronunciations and much more.
One of the characteristics of Wiktionary is its collaborative aspect. Much like Wikipedia, Wiktionary allows users to contribute by adding, editing, and correcting definitions and linguistic information. Words are grouped by language and can be explored using various methods, such as alphabetical or topical search. This makes it easier to discover new words, compare terms in different languages, and understand nuances between languages.
Another interesting feature of Wiktionary is the presence of multilingual dictionaries. You can find translations, synonyms and antonyms for many words in different languages. This makes Wiktionary useful not only for those seeking to understand a foreign language, but also for translators and linguists studying the relationships between languages.