Bookkeeping is an essential factor in the prosperity of a business. This discipline presents itself as a policeman who watches over the life of the company. And no matter the size of it, it is forced to ensure impeccable accounting. However, the task is not so easy. Successful business accounting requires the use of better-performing tools. These software are mostly paid and their courses sometimes exceed the possibility of small businesses.
Nevertheless, there is very practical accounting software available for free. Tools in Software as a Service (SaaS) mode that can allow small and medium-sized businesses to clarify their finances in the same way as large ones. Discover the best of these accounting software.
1- EBP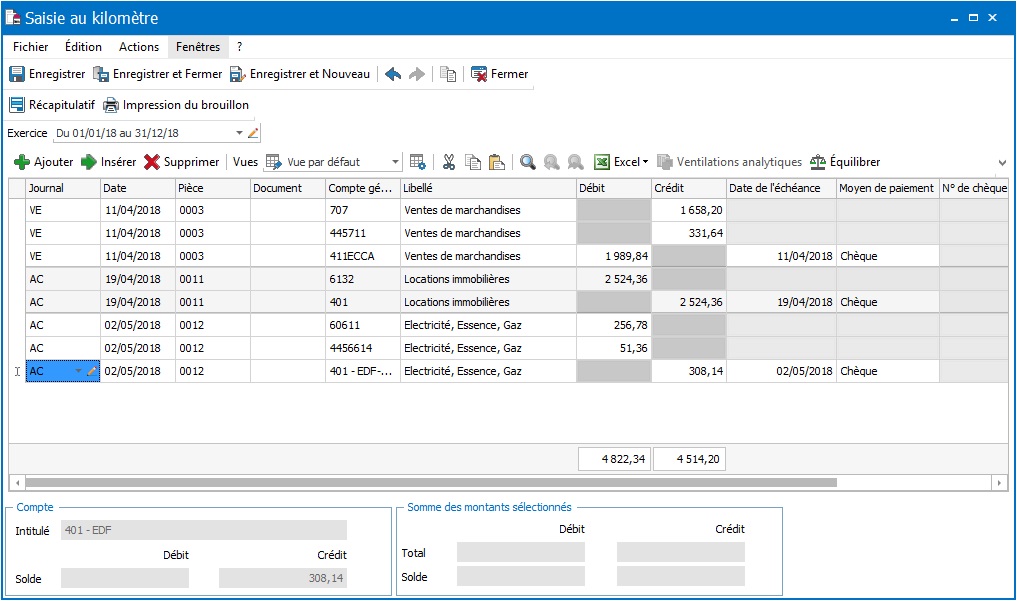 Since 1984, EBP has been producing very practical tools to help companies organize their finances. Whatever your field of activity, EBP can support you. Whether for accounting management, commercial management, salary payment management, inventory management, keeping the operating book, taxation, or even customer relationship management, this software allows you to have a good organization in the management of your business.
One of the key advantages of this software is that it can be compatible with all forms of business. It takes into account the needs of your company to offer it the appropriate service. It is available in different versions including EBP online accounting for SMEs, EBP Compta PRO online and EBP Compta Classic.
You can access EBP online for free or choose to subscribe as well. Support is available to drive and assist you if needed. Take advantage of well-equipped software to boost your activities.
2-iTool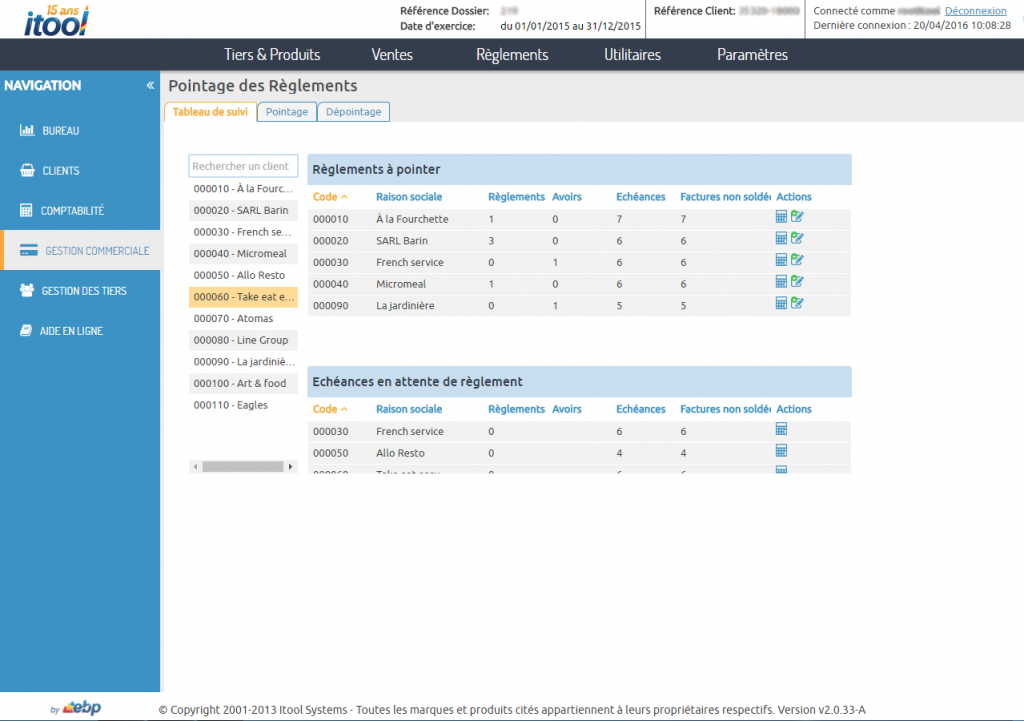 iTool is a very powerful management software available in SaaS mode. Recognized as the first management software to go full web, it was launched in 2000 in France. This tool allows you to better organize yourself, whatever your sector of activity, thanks to its optional multi menu. Whether you are a promoter of an SME, an entrepreneur or even a craftsman, you can make the most of it. Among its many functions, we can list the possibility of keeping general accounts, entering data, monitoring company taxation, and also producing quotes. All this on a fairly simple-to-understand interface.
iTool saves your private information and protects against possible viruses. In addition, users can follow direct and free training on the use of the software through web conferences. Assistance is also available to support them in mastering this tool.
Besides, the free use of iTool is limited to 30 days. The time to let the user know the performance of the tool. After this time, it requires a subscription for the rest.
3- Quadratus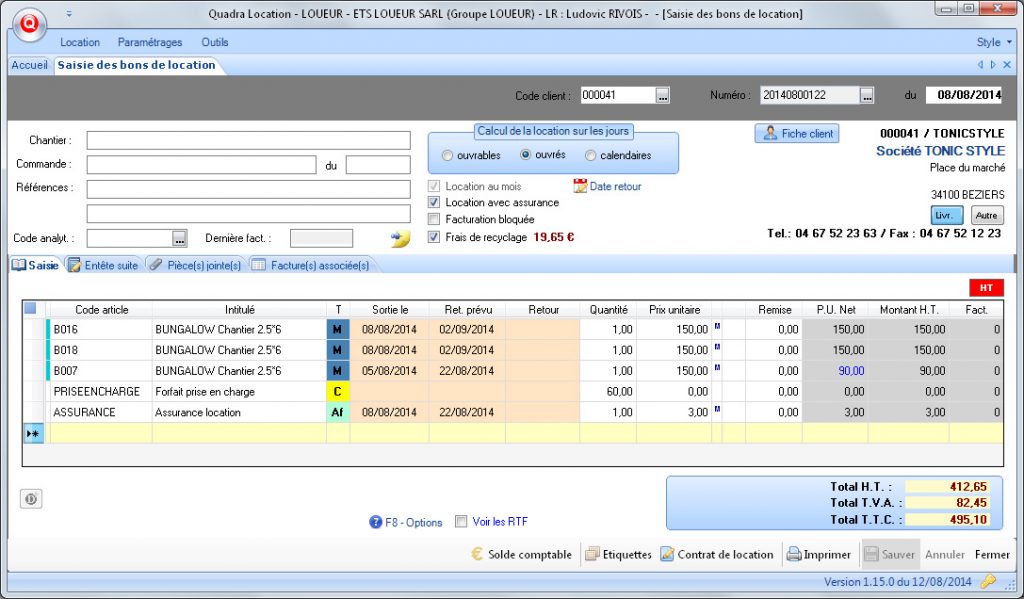 With an attractive interface, Quadratus presents itself as a better option in terms of online software. This French accounting tool was transferred to Cegid during 2013. It provides an effective management solution, not only to SMEs, but also for large companies. It contains a variety of functions that can adequately meet the needs of your company and is also easy to understand. There are even alternatives for managing VSEs added to those of trade of all kinds and craftsmanship. All this in the QuadraEntreprise module. Also, the QuadraCOMPTA module is specifically intended for accounting management.
The designers of this software did not fail to add other functionalities such as analytical accounting, the possibility of reviewing the accounts, the declaration of VAT, and the monitoring of cash. Similarly, in terms of confidentiality, the designers have managed to provide the software with maximum security. Your data is therefore well protected.
4- Memsoft Oxygen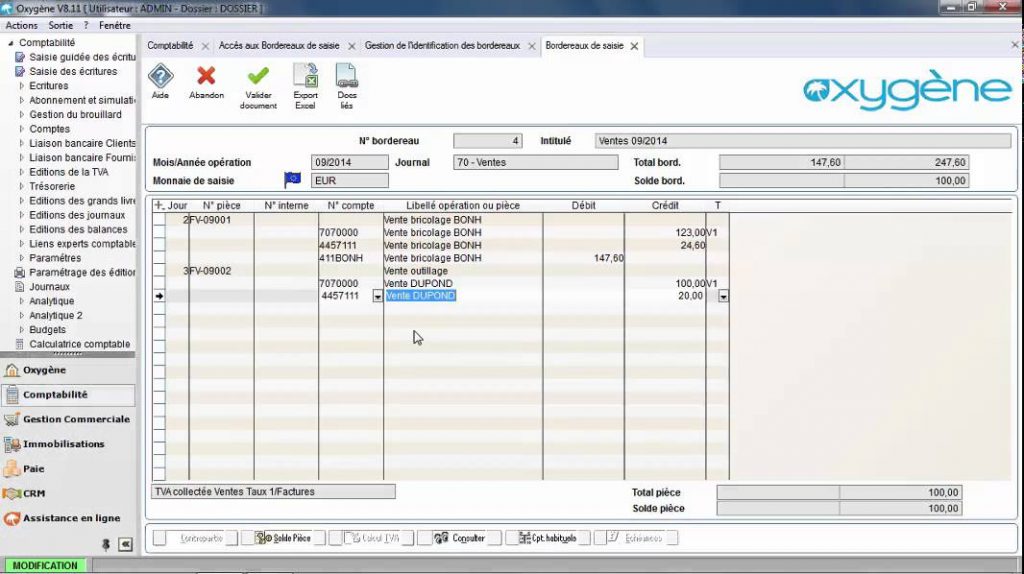 Oxygen Memsoft is a tool, compatible with the Windows 10 system, which can only be used offline. A feat from the Memsoft editor. He chose to equip the free version of the software in order to allow SMEs to have what is necessary to make their account. It includes features such as
the balance sheet; the income statement,
cash management
the big book
the balance and the newspapers,
interim management balances
VAT in Cerfa type model.
Apart from these features, other options are also available in the free version of the Oxygen software. You will know how to adapt it to your activity.
5- Express Accounts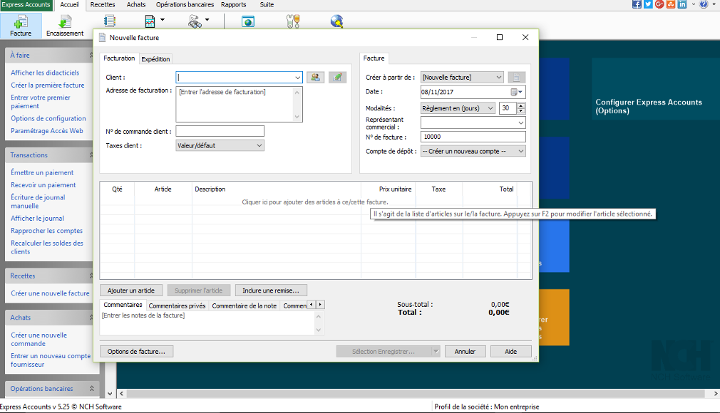 Here is also a good accounting software that is very practical and frequently used by entrepreneurs. If you have a small business with up to 5 employees, just rely on Express Accounts for your points. Compatible with operating systems such as Windows 10, XP, Vista, 7, and 8, the free version of this software allows you to see through your finances. Its use does not require an internet connection and it can also be installed on MAC.
Express Accounts is similar to business management software with its sales and billing management functionality. You can manage your relationships with suppliers, make financial reports or also create and print checkbooks from the free version of this software.
6- IPilot
This accounting software only exists in a free version. One of the rare cases in accounting software. According to some sources, it was designed to attract customers to a group of accountants. Anyway, it makes more than one happy. The JePilote project was funded by the European Union and the Aquitaine Region.
Intended for VSEs and startups, it is only accessible online through the Cloud. With JePilote, you have access to the following features:
accounting management using basic tools,
cash and bank management,
the possibility of including several users,
the production and management of quotes for invoicing ,
management of a product catalog,
dashboards with KPIs,
JePilote simply offers you the possibility of piloting your business without predicting success.
7-Wave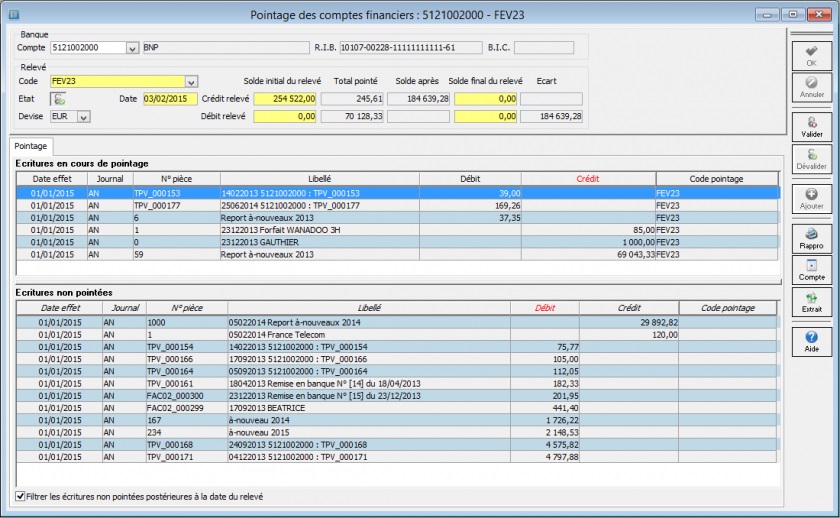 Hosted on Cloud with a very modern interface, this free accounting software is intended for entrepreneurs. It generally promotes easy use or navigation. It remains a safe accounting tool to run a business with confidence.
Indeed, Wave offers the possibility of simplifying the tasks of accounting and invoicing. Wave is then software that comes at the right time when you know that each invoice paid is a profit gain for a company. Its invoicing features allow users to produce and send professional invoices with absolutely incredible ease. These include state-of-the-art billing systems such as recurring billing and automatic payments.
But Wave is not just a free solution for creating professional invoices. It performs all kinds of cash work. Compare, earn, move, and manage your money (income and expenses) are now automated. Adopting Wave accounting software is simply giving yourself the power to have an integral picture of the success of your business.
8- Apache OFBiz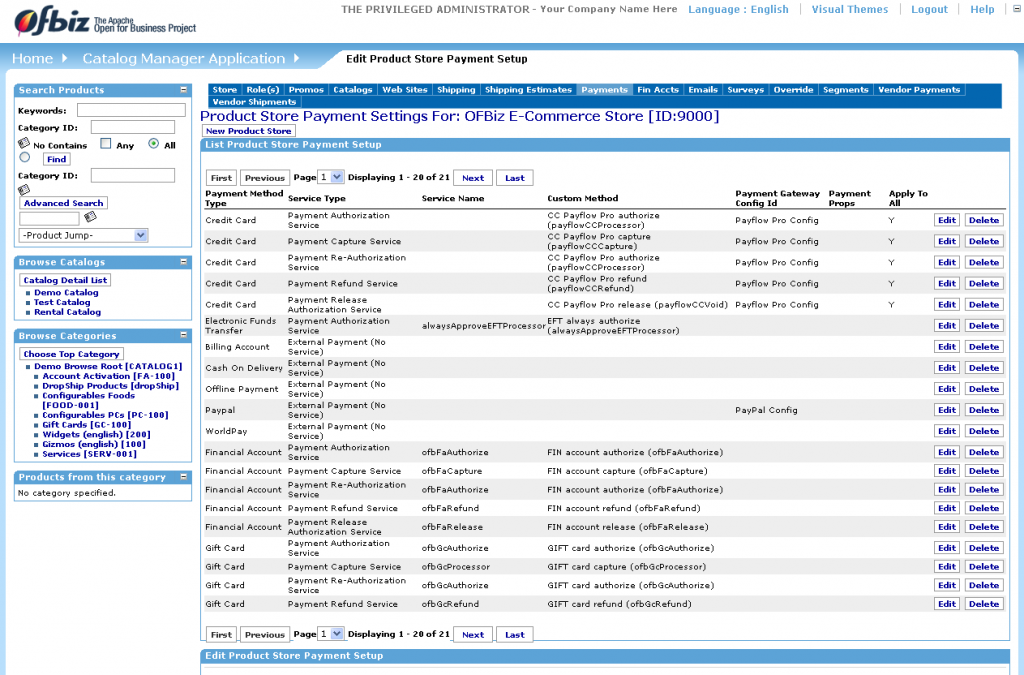 The practical information about the modules and features of this accounting software indicates that Apache OFBiz is the ideal accounting tool designed by developers. Its characteristics are also very expressive in terms of the advantages that can be derived from the use of this cash flow software. All of these characteristics and functionalities translate into:
A range of ready-to-use fundamental modules
accounting (GL, AR, AP, FA)
CRM, order management, and e-commerce
storage and inventory
manufacturing and MRP
Powerful Java web framework to quickly prototype and develop your web application
The ability to take advantage of a full range of professional features
product and price management
management of promotions and directories or catalogs
supply chain fulfillment
management of contracts, payments, and invoicing
A guarantee of major advantages
lack of vendor lock-in
mature and stable CRM and ERP solution for a scalable, reliable, and extremely flexible business (Apache OFBiz is a series of business applications that can be used in any industry)
fully customizable software (Apache OFBiz can be quickly extended and optimized by developers to build custom functionality
software flexible enough to adapt to all businesses.
---
---
9- Grisbi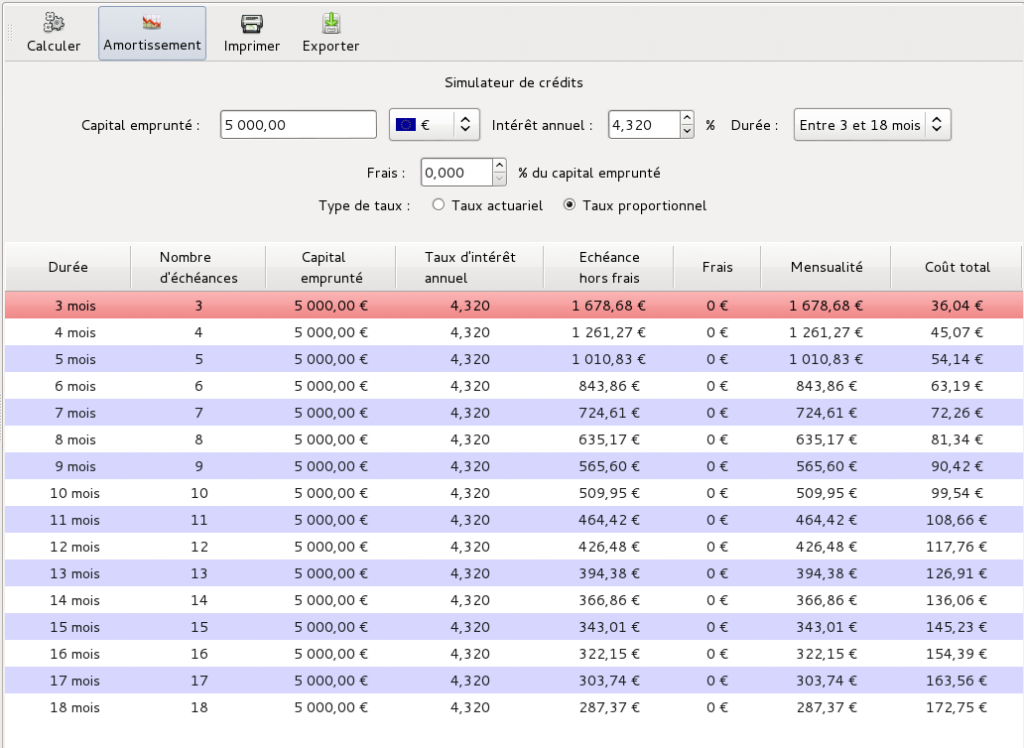 Less known, but very effective, Grisbi offers all the features that one can hope to enjoy from a small accounting and business management software. With its recently updated version 1.2.2, the "Grisbi" accounting software offers more stability with bug fixes. It also brings more innovations to its essential functionalities which translate into:
mostly simple, easy, and fast accounting
respect for the French treasury
a plurality of platforms (Multi-platform)
a multitude of currencies (Multi-currency)
freedom in the use of the software (Grisbi now uses " GitHub " instead of " SourceForce " to initiate its development)
10- Prextra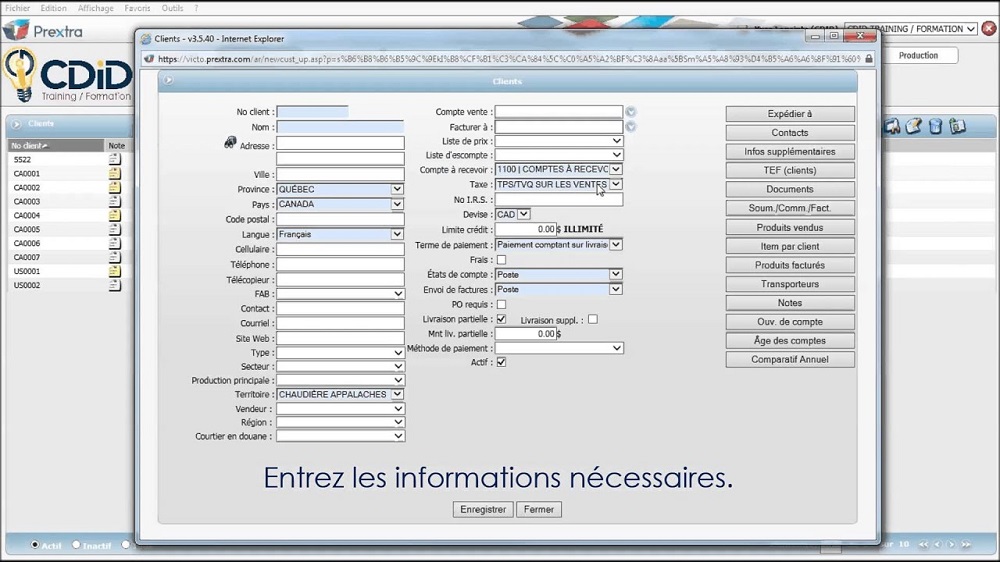 Developed in Quebec, this business management platform is the forerunner of information technology for the benefit of less complex accounting requirements. It is relatively inexpensive; which makes it one of the top contenders in the free accounting software market. Prextra has everything to be your preferred ally in terms of personalized financial management IT solutions. It allows you to monitor your invoice equipment in real-time in order to maximize the performance of your business. It's the best all-in-one ERP management approach for your information technology needs. Finally, Prextra has the advantage of being:
a flexible and customizable web platform
software that meets your specific objectives with the ability to receive and send reports by email, fax or PDF format
an easy-to-use and less expensive tool with data accessible via Microsoft Excel and compatible with your old software
11-DOLIBARR

For the execution of less complex accounting tasks, Dolibarr is the most interesting financial management software that we can recommend to you. Its functionalities are essentially limited to cash as well as the management of income and expenses. But that doesn't take away from its ability to meet your basic bookkeeping needs. It is one of the best free financial software for companies specializing in commercial management and invoicing.
12- Odoo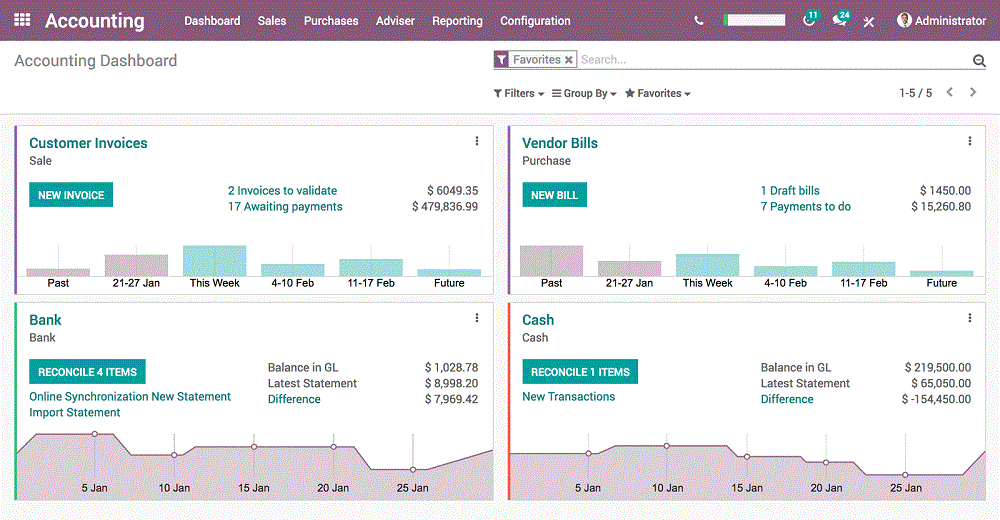 Launched in 2004, this software is an Open Source online invoicing tool that is aimed at all entrepreneurs and all sizes of businesses. This software has an intuitive and easy-to-use interface, which is why it has more than 5 million users around the world. Odoo embeds a large number of features such as accounting, inventory management, CRM, HR management, website creation, Odoo project management, and many others. However, the software is only free for billing and accounting management. To appropriate the rest of the features, you will need to subscribe to a subscription.
13- Compta.com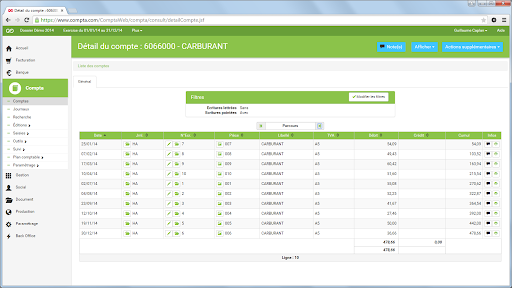 Compta.com free accounting software is a tool accessible to all types of entrepreneurs. It was designed by a network of accounting firms. It offers the possibility of managing the accounting affairs of a company from any device (Smartphone, tablet, PC, or Mac) with an internet connection. It is equipped with many innovative features. Indeed, the Compta.com software is accessible to anyone with prior knowledge of accounting or not. It has a simple and very intuitive interface. It allows the automation of the accounting of imported banking operations. This software also makes it possible to carry out the synthesis of the accounts, namely the immediate search for operations, the state of progress of your files and quick access to data entry.
14- GEM-BOOKS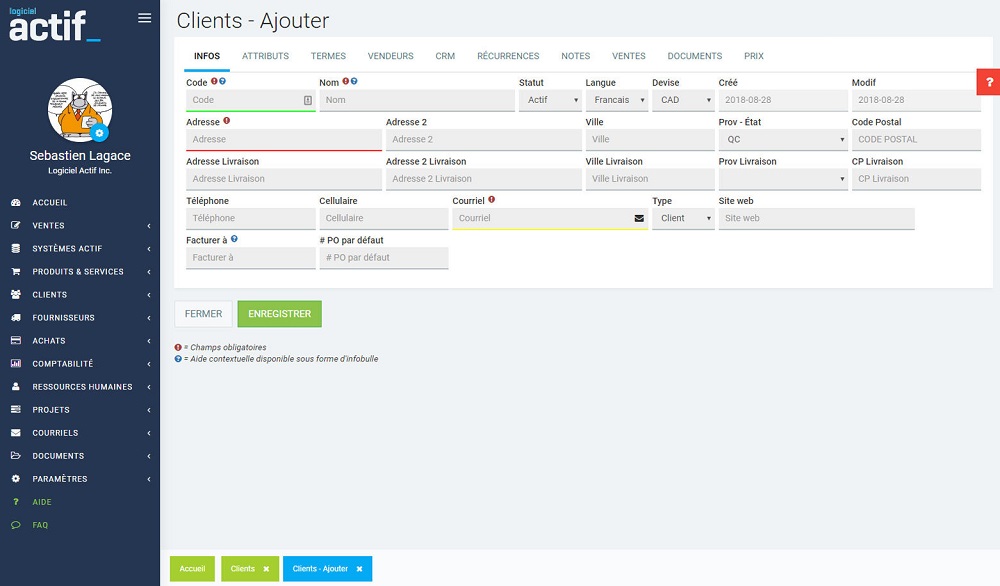 Formerly Active Software, GEM-BOOKS is an online management solution with more than 26,000 users worldwide. This all-in-one online accounting management software. Indeed, this platform offers different solutions for the needs of invoicing, human resources, advanced accounting, project management , transport brokerage, secure file sharing, messaging or electronic signatures.
With this all-in-one software, you no longer need to clutter your computers with numerous accounting and management software. Being an Open Source software, you do not need to proceed with an installation before using it. So you can access it from anywhere regardless of your location in the world.
15- Gnucash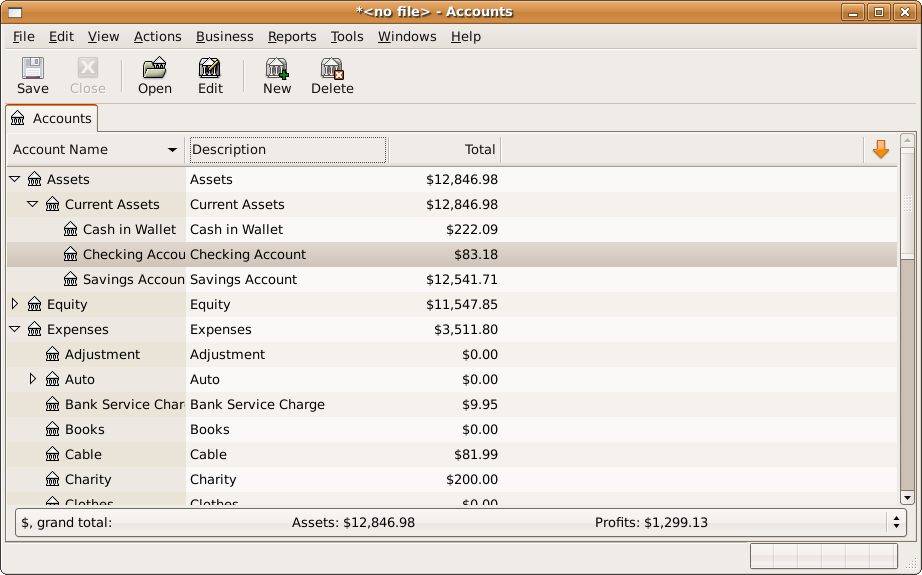 Gnucash is a free expense management tool. It offers individuals and small businesses easy and efficient accounting software to manage their expenses, live banking feeds automated data entry as well as financial reports. This software is equipped with many features and allows you to streamline expenses by automatically extracting information from receipts and converting them into digital data. Despite being a bit limited, it is easy to use thanks to its simple and intuitive interface. It has an intuitive and elegant design that makes it easy to hold.
16- ZipBooks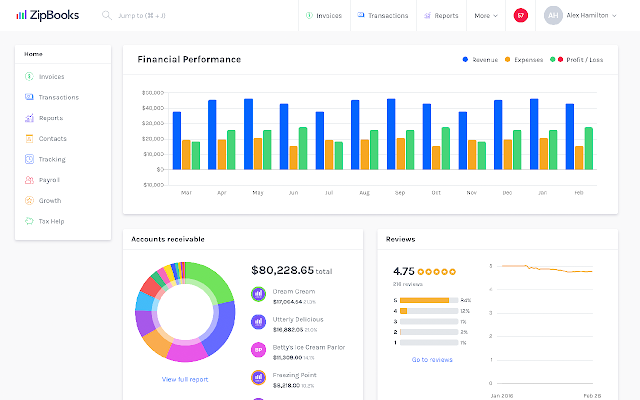 ZipBooks is also an accounting management software published only in English like SlickPie. Like most free online accounting software, this software also provides small and medium-sized businesses with professional invoicing tools to edit your invoices in just a few seconds. It is also equipped with an automated payment reminder tool. It is software that makes bookkeeping and accounting easier for you. You will have fun managing your accounting with this software thanks to its intuitive interface.