Description
Developed by Tonec, Internet Download Manager (IDM) is a Windows utility that significantly accelerates the speed of your downloads. This manager, also called Downloader, advantageously replaces the one integrated into Web browsers. It is compatible with Google Chrome, Mozilla Firefox, and Microsoft Edge.
The app intercepts downloads that are initiated from your browser and places them in a queue. To make the process more efficient and faster, it splits the files into multiple pieces and initiates multiple uploads simultaneously. When all the loadings are finished, it automatically assembles all the pieces that make up the file. More often than not, this technique gives much better results than a classic linear download. On the other hand, it incorporates an automatic recovery system. Thus, an interrupted download is continued where it left off rather than being resumed from scratch.
If the application is mainly intended to speed up downloads, it can also slow them down. The user can pause them or set a maximum speed. Thus, part of the available bandwidth can be kept for another use, such as watching streaming videos on the YouTube platform or video game sessions.
Internet Download Manager also offers the possibility of recovering the videos broadcast on streaming sites in the quality and format that you have defined beforehand.
Why use Internet Download Manager?
If you are a user who downloads a lot of files when browsing the internet, you know that download times and queue management by your internet browser's internal management tool can sometimes cause some problems.
Using a download manager allows you several very practical settings such as the use of bandwidth, very practical, especially if you are watching a streaming video and you do not want it to crash. You can also resume your downloads where you left off without having to start from the beginning, and you can even close your browser even if the downloads haven't finished!
IDM, therefore, brings you all these very practical features that one looks for in a download manager and many more. Attention, to use Internet Download Manager correctly, you must download the application for Windows, but also the extension adapted to your Internet browser. Note that IDM is available in French and other languages.
Thus, when browsing the Internet, as soon as a content is downloadable, a button appears, whether it is a PDF document, a YouTube video, an exe, or any other element. Note however that no antivirus is integrated into the module.
What are the features of Internet Download Manager?
The first feature of IDM is to allow you to download your files at a much higher speed than your browser would have offered you. Indeed, the software uses segmentation technology which allows it to cut the files in a virtual way and to download all the pieces at the same time (which is faster than the linear method).
Downloading files from the Internet is simplified by using the extension that is inserted into your usual Internet browser. So, clicking a download button from any website opens an IDM dialog box that lets you choose the location of the downloaded file. When the download is complete, a new notification window appears.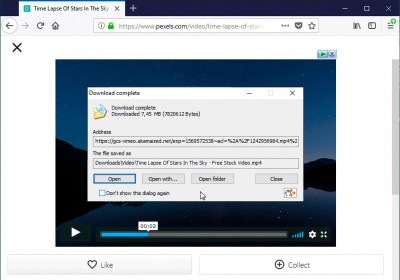 Note that Internet Download Manager supports the usual HTTP protocols (these are those of websites), but also FTP.
When you open Internet Download Manager, you get a simple, clean, and modern interface. If the white background attacks your eyes, be aware that a Dark Mode is available which allows you to switch the background to black.
The software interface is very simple. It allows you to initiate downloads directly from the file's URL, as well as manage ongoing downloads, whether you've added them manually or via your browser extension. You can thus manage them one by one or in their entirety to stop them (pause), restart, and delete them.
It is also from this window that you can launch the download scheduler (to launch all your downloads when you are not using your PC, for example). You can also use the tool called Grabber to retrieve all the images from a web page for example.
Is Internet Download Manager free?
Internet Download Manager is a paid software that offers a free demo version. The trial period of IDM is 30 days. At the end of this period, you will be offered to upgrade to the paid license.
Internet Download Manager offers several types of licenses. First, two one-year subscription licenses for 1 or more PCs. Then, it is also possible for you to buy a perpetual license whose price varies according to the number of PCs on which you wish to install the software.
What's new in the latest version of Internet Download Manager?
What's new in version 6.41 Build 11
Fixed problems with downloading for several types of video streams
Fixed a bug when the download panel was shown even when it was turned off
Fixed bugs
Internet Download Manager Build 6.41 released on Apr 05, 2023, which has since received several fix updates, added Windows 11 to the list of compatible OSes. It also saw the addition of a search bar in addition to the functionality already included via CTRL-F.
Note that the software has an automatic update check feature, if a new build is available, IDM will offer to install it. The dialog will also let you know what's new in this release.
The following builds mainly integrate bug fixes and performance improvements for the Downloader.
Which OS is Internet Download Manager compatible with?
Developed by Tonec publisher, Internet Download Manager (also known as IDM) is only compatible with Windows computers, in exe format. It supports the following Windows versions: XP, 7, 8, 10, and 11.
Note that Internet Download Manager (IDM) is also an extension for Google Chrome, Mozilla Firefox, Microsoft Edge, and many others.
What are the best alternatives to Internet Download Manager?
There is plenty of software out there to help manage your downloads, including extensions for Chrome, Firefox, and more. If you prefer to use standalone software, here are some solutions that have the advantage of not being reserved for Windows users.
JDownloader is a cross-platform manager that you can download for Windows, Mac, and Linux. Developed in Java, it can also be used under other operating systems by experienced users. It is completely free and developed in Open Source. Updates are regular thanks to the community of developers who participate in its development. The software supports pausing, bandwidth limits, automatic extraction of archives, downloading multiple files at the same time, etc. It even offers an OCR (character recognition) module. Its interface is in French.
Free Download Manager (FDM) is also a cross-platform and free tool. You can download it for Windows, Mac, Linux, and even Android. In addition to supporting the usual downloading from your internet browser and accelerating them via segmentation, FDM is also able to download files in TORRENT format, without the need to use any other software. It also contains a preview tool for audio and video files. Like Jdownloader and IDM, it picks up your downloads where you left off, but it goes even further with a scheduler. The interface is translated into French.
Less known, but equally efficient and cross-platform, you can download Motrix for your computer on Windows, Mac, or Linux. Like FDM, it allows the downloading of Torrents files, but it also offers an FTP download module. Free and Open Source, it is an even more complete solution than the previous ones, but unfortunately only available in English.
If you are looking for a manager to download streaming media, you can turn to Orbit Downloader. Free and modern, this utility allows you to manage your downloads, pause them and resume them, but above all, it has antivirus security that protects your system from any malicious content.
Specifications
Version 6.41 build 11 Last updated February 27, 2023 Licence Demonstration Downloads 4264 (last 30 days) Author Tonec Operating systems Windows XP/Vista/7/8/10/11 Categories Internet, Utilities
Download Internet Download Manager Free
Click on the below button to start IDM Internet Download Manager 6.41 build 11 Free Download from the official site. This is a complete offline installer and standalone setup of IDM Internet Download Manager. This will be compatible with both 32-bit and 64-bit Windows.
Download Internet Download Manager