---
Cartoon Avatar Maker applications in which you can create your own character, your avatars are much needed these days, especially on the Internet. Just take a quick look at your Facebook friends list, and you'll find people hiding their identity behind a cartoon avatar. Not only on Facebook, but cartoon avatars are the latest trend in every social networking site, including Instagram, Twitter, WhatsApp, etc.
Creating a cartoon avatar for yourself is never easy. On a computer, you have to be good at Photoshop, to create attractive cartoon avatars. Likewise, things are not easy on Android either.
Here in this post we bring you the best avatar maker apps that you can run on Android.
List of 14 Best Cartoon Avatar Maker Apps for Android.
Some users rely entirely on Android to create and edit photos. For those users, we are going to share a list of the best Android apps that allow you to create your own cartoon avatar. Let's check.
---
Face Avatar Maker Creator
Face Avatar Maker Creator is another best and fun app that you can use on your Android device. With Face Avatar Maker Creator, you can create a real cartoon character profile picture of yourself or your friends. To create cartoon avatar, Face Avatar Maker Creator offers you more than 10000+ options for cartoon characters. The app also provides many customization options to change the look of your new avatar.
---
Bitmoji App
Bitmoji is one of the best and top-rated avatar maker apps that you can use on your Android smartphone. Millions of users are using the app now, and it allows users to create expressive gifs. The main thing is that Bitmoji creates avatars based on emotions. For example, you can create a laughing version of yourself, crying, etc.
---
My Avatar – Filmize
Well, My Avatar – Filmize is a little different from all the other images listed in the article. The application allows you to create a realistic 3D animated avatar with just one click. After creating a 3D avatar. You can create videos with animations and share them on social media platforms. It's a low-rated app, but it's worth a try.
---
Cartoon Avatar Photo Maker
Cartoon Avatar Photo Maker app is another best free and unique avatar maker app on the list which you can use to create cartoon avatars that look like you. Unlike other apps, Cartoon Avatar Photo Make offers many avatar editing features like mouth style, face style, sunglasses, hair colors, etc. In short, you can customize almost everything while creating a custom cartoon avatar.
---
SuperMii-Cartoon Avatar Maker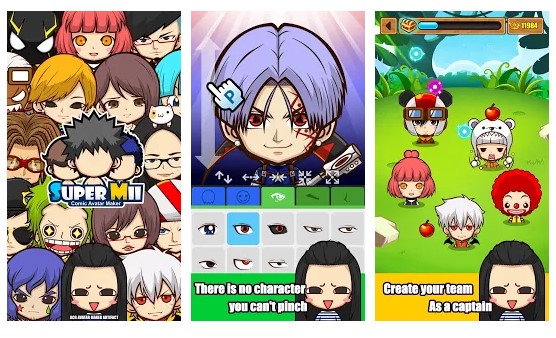 SuperMii is not very popular, but it is one of the best avatar maker apps out there. The app allows you to create custom avatars each aspect of which can be modified. Avatar for Android closely follows the concept of Japanese animation and tries to give anime character to avatars.
---
Mirror Avatar Maker
Mirror Avatar Maker is one of the best and most amazing face maker app that you can use right now on your Android smartphone. With Mirror Avatar Maker, you can easily create your own personal avatars on your phone. To create an avatar, you either need to click on a profile picture or upload your own. Once you're done, you can customize and add over 1,500 elements to your photo.
---
Avatar Maker Personal
Avatar Maker Personal app can create an avatar according to your mood, occasion and style. This is one of the best avatar maker apps on this list. With this application, you will enjoy creating a character. After creating the avatar, you can easily share it on social media. You can choose a pre-loaded design and modify it with your creativity. It is very easy to edit and create. You can also use this app as a sticker creator.
---
Doll Maker
Do you know what's cute and adorable in Japanese? It's kawaii. This app allows you to bring your imagination to life and build amazing Kawaii characters with many kawaii fashion items.
There are more than 150 elements, ranging from skin and hair color to facial expressions. You can customize every little detail from top to bottom and create your own childish, shy, charming or vulnerable animation.
---
Factory for Avatar
With this app, you can edit your avatars, profile pictures and header photos with lots of cool stickers and embellishments. Dress up your cute and adorable avatar, adjust facial expressions, and customize the background the way you want.
The app comes with one rating resource package. This means that you have to download the items each time you want to use a different package. It takes a few seconds to download, but the good thing is that all the items are available for free.
---
Avatar Maker: Anime
The app offers many parts to mix and match and create your own original character for any type of story: fantasy, fantasy, contemporary, romance, knights. There are over 10,000 characters, flexible color options, and a large variety of accessories to choose from.
You can also add your characters to comics, manga and anime to create your own kawaii stories. Once you have created your avatar, you can save it to your phone gallery, use it as a profile picture, or share it with your friends to showcase your skills.
---
Avatoon – Avatar Creator
Unlike all other avatar maker apps for Android, Avatoon also offers you powerful image editing tools to create custom avatars. Avatoon has a facial recognition feature that automatically detects your face and creates a custom avatar for you. It also provides you with a wide range of avatar customization options like changing hairstyle, clothes, nose shape, etc.
---
MojiPop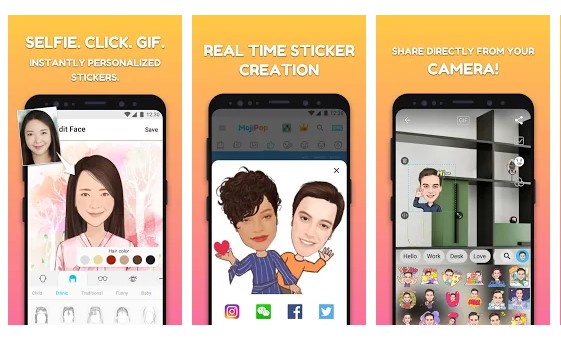 It's a keyboard app with lots of cool stickers and emojis. It allows you to take a selfie of yourself to create a custom avatar. Not only that, but the generated avatar or sticker can be used for texting as well.
---
Cartoon Maker- Avatar Creator
Cartoon Maker app by PicFix Art studio is one of the best Avatar Maker app available on Google Play Store, thousands of users are now using the app. It provides users with a variety of elements to create a custom avatar. And with Cartoon Maker- Avatar Creator. You can create a cartoon avatar by combining different parts of the face.
---
MomentCam
If you are looking for an Android app, to create funny emojis and animations from your photos, then MomentCam might be the best choice for you. MomentCam also customizes the background.
---
These are the 14 best anime maker apps that you can use right now, if you know of any other such apps, do let us know in the comment box below.